November 16, 2014

Swansea
Some other day I decided that I've already seen enough of Swansea. So I took the bus from Port Tennant along the construction site of the new Swansea University Bay Campus towards Neath west of Swansea. After the ride through a more industrial area, where a Amazon warehouse is, I arrived in Neath.
It is a small and very old town. First Roman settlements existed already in the 70s. I'm not really sure what I expected, but there wasn't much to see from a young tourist point of view like me on a Sunday morning. One of the main attractions is the castle. It was destroyed and rebuilt multiple times during its history dated back to the 13th century.
Only part of it still remains and unfortunate for me I even couldn't get in. All I have are a few shots taken trough the fence.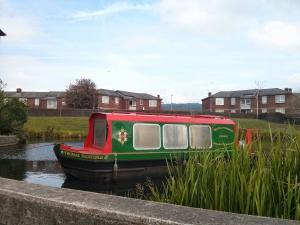 Behind the castle I found a boat the somehow reminded me of a Dutch city. But I also remembered that these are common houseboats on British and French canals.
After I picked up something for lunch I decided to enter a park near the city centre.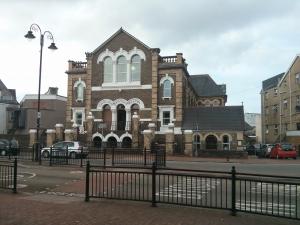 Even though it might be an interesting place I took the next bus back to Swansea a few hours later after some walking around. There might be more to see, maybe my walking radius wasn't wide enough.
I finished the day in Sketty Park at BBCs Proms in the Park. A large show with an outstanding fireworks finale and the BBC orchestra as well as a very famous Welsh singer I didn't know. This evening was live broadcasted on BBC (duh!) and three concert halls around the UK. I should be honest though: I wasn't actually inside. I just sat at the fence and had dinner (bread&cheese). Very nice evening though. The photo was taken earlier that evening.